So as many of you know I am an Eyebrow Snob. As hard as I may try eyebrows are the first thing I notice when I meet a person. I think they are the most important feature on the face that can make or break an entire make-up look. You have heard this speech from me so many times, but I offer you Eyebrow Salvation!


  Many have attended my Modern Pinup Make-up Classes and I have given you one on one time to assist you in your eyebrow needs, sadly I can't be in every town, every state or every country, so I will offer you as much help as I can via the internets.
   So I am going to show you how via photos to create a better brow for yourself. First thing first, symmetry. Yes that is right SYMMETRY it is something anyone can have yet many eyebrows lack. Remember reading all those bad teen magazines that always showed you how to measure out brows... well they were right, and maybe you missed that issue, you know who I am talking to... Anyways, with this photo below I have outline symmetry.


   Yes, it all begins with your nose, the corners of your nose dictate to where your brows will sit both inside and outside. The most important thing is that they sit far enough inside, far too often women over pluck on the inside of their brows. This makes their eyes look wide set, and throws off your entire face. The ends, don't always follow those guidelines, I personally like to extend my brows a little further. Arches again can be changed often, I do change mine as I want, but if you have to shave off most or all of your eyebrow to arch them a specific way... you are doing it wrong. Unless you are going for a more 'goth' or 'chola' look. I like doing my eyebrows rather thick, they are not for everyone, but pencil thin isn't going to get you past the 90's, so don't be afraid to let them grow in a little. So enough of my berating, lets continue...
 Be for warned all photos were taken with my cellphone, so no fancy quality here kids.
   So first thing is first you need to let your brows grow in wherever you have over weeded or shaved. If you insist that they won't grow back, then you can purchase this handy product for $125.00 and it will work!
    Yes Latisse, it works I have used it on two friends. I don't recommend using it on your lashes due to the chances of your eyes turning brown if you have light eyes. Put it on at night, one drop should do both brows and wash it off in the morning. If you leave it on continuously in the day light it can cause hyperpigmentation. Just remember to wash it off and you will be fine! You must put it where you want your brows to grow and where your brows currently grow. You will get longer thicker brows after a few weeks of use. I would use it for at least 6 months to a year to ensure that  your brows are fully grown back.

  Now that we have covered that, your next and first important tool are tweezers. My favorite tweezers are these:
   I personally like this travel set, because you can take them anywhere. Remember to always put the rubber knobs back onto the tweezers when you are done, otherwise they can get damaged and will not pull out hair properly.

  So now that you have your tweezers, you can begin getting those stray hairs. Make sure your skin is clean and your tweezers are also sanitized.
  Remember to pull in he direction the hair is growing. Now that you have done this, and if you have bushy brows like me the next step is very important. You will need a brow comb for this.


   You will need to brush your brows upward with he brow comb like below:
  After you have brushed the hair into place you will need some small sharp scissors to trim the hairs that are far to long. Now be VERY careful to no cut a straight-line, you just need to trim the hairs that are longer than the rest, or the ones that grow inwards towards your nose like 80's Madonna. Scissors like these are perfect to use:
  Now once those brows are trimmed you can begin to fill them in. I have several brow brushes I love. My newest ones come from Ve Neills new brush line that has yet to be released that I got at the IMATS. I do very much like my two Makeup Forever Brow brushes.


  You have the right tools, but you need the right product. I dye my hair black, but I NEVER use black. I use a dark brown, or browns. Always use matte shadow, I prefer MAC or Make-up Forever, though depending on your hair color you may also like Anastasia brow powders. Now the pinup brow is a strong one, and I would not recommend using powder unless you will have a full face of make-up. Here is one of my many brow palettes:


  Now you don't want to scrub your brow brush, you want to stipple, which is where you take the brush and lift it up and down onto the product. Shake off any access powder before application. You will need to make sure you brow hair is combed back down into place before proceeding. Start from the inside of the brow and use short soft strokes like you are drawing small hairs. Move towards the end of the brow.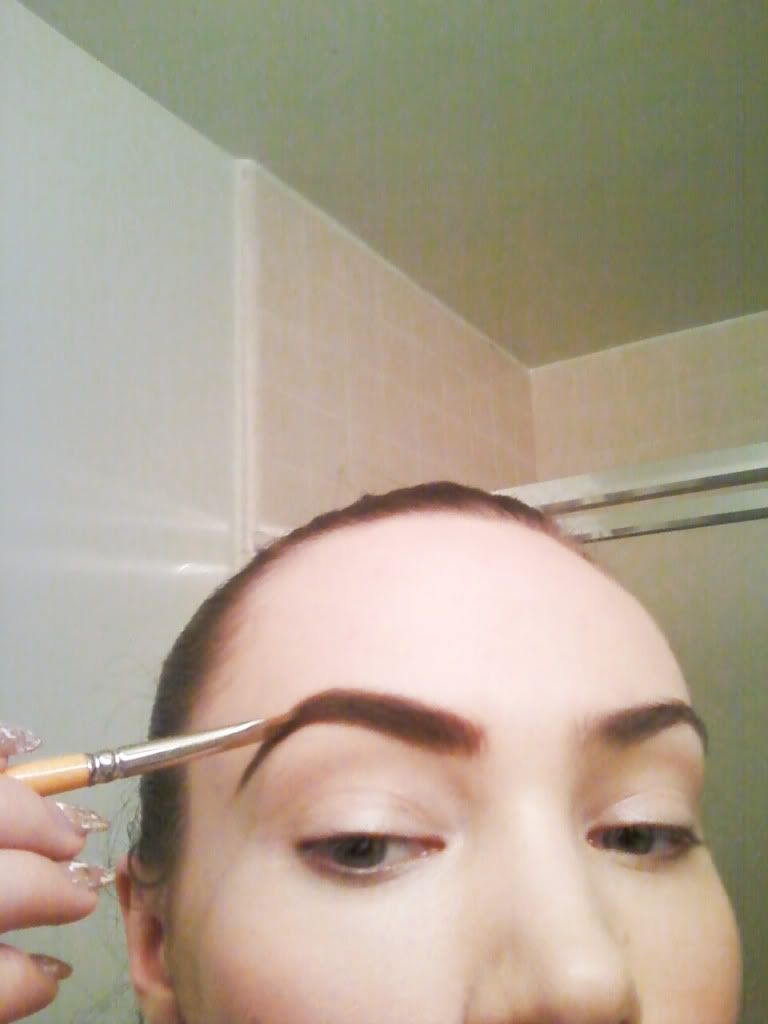 Sometimes you may want to wet your brush slightly to get the sharp point on the end of the brow. Feel free to do so. * I know you are totally going to lick your brush now. So now sealing product, I prefer clear brow gels, since my brows are thick and unruly. If they are thinner you may like a tinted brow gel over a clear. I like the Anastasia Clear brow gel the best. I find wax to be a bit greasy and can often clog pores.


   Make sure you go in the direction of the hair like the image below!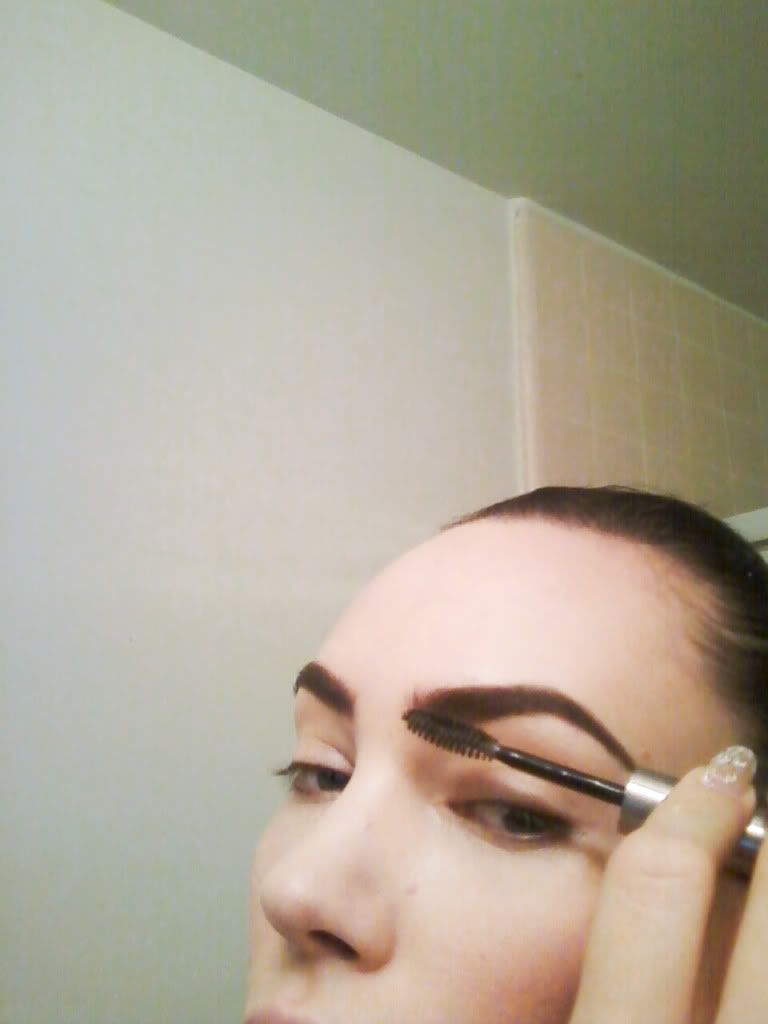 If you have very oily skin and tend to have your brows rub off, then I would suggest using one of my favorite brands product, Model in a Bottle Brow Sealer:


  So if you practice and follow my above instructions you should have a bigger and better Perfect Pinup Brow!


  Now if you still have problems trying to fix your brows yourself, there is a new brow trend going around internationally called HD Brows. Now many places are starting to offer this process, and what it is, is combination of several methods to give you perfect brows. It combines tinting, to get your brows the right shade, waxing * I personally would skip this step as continuos years of waxing can quicken the aging process as it rids the skin of elasticity. There are many other pitfalls to waxing and you can read about them here: 
http://www.buzzle.com/articles/side-effects-of-waxing.html

 Continuing on with the HD brows, then they will trim your brows, thread, and tweeze. If you need filler product such as pencil and or powder they will assist you with that. Contact your local salons and spas to see if they offer HD brows and request to skip the waxing.

  The first 10 girls that send me a photo of their bad eyebrows, I will give you a photoshop eye Brow Make-Over, but you have to be okay with them being posted online.
  Email your photo to: MichelinePittDesign@gmail.com



<3
Micheline Pitt