At the dawn of man they created the wheel and I feel their intense love of cars and all things round stems from this creation. I think a cave woman somewhere must have invented the first shoe, because I can't really explain otherwise for women's obsession over footwear. It seems as far as we can go back women have always famously loved wearing beautiful things and even more so on their feet. I like so many of you, have enough shoes to put me into the double digits. I think it is import to ask yourself this;
"What are your favorite shoes and where did they come from?"


  For me my favorite shoes are Pollys, but historically known as Mules. What an unattractive name for a shoe style, Mule.  Regardless of the not so feminine name the shoe style itself has quite an interesting and glamorous past.
 Mule a French word meaning; slipper is a style of shoe that is backless and often at that period of time was closed toe. The word Mule was possibly derived from the Dutch word Muli, ultimately from Latin Mulleus (calceus), reddish-purple ceremonial shoe worn by three highest magistrates in Ancient Rome.

  High heeled mules date back to the 16th century, though they became even more popular in the 18th century as an indoor shoe style worn more exclusively by women. Mules were always meant for the higher echelon of society, as a normal laborer would have no use for a shoe that could be easily slipped on and off. Mules were a sign of status and gave the indication to others that you lived a life of luxury. This association with luxury and high society is what kept the Mule alive for the modern woman and even more so in the twentieth century when they became the common shoe choice for concubines, ladies of the night or more in layman's terms, prostitutes.


   The Mules life continued, after its tawdry affair with our ladies of the night when it made its way onto the feet of some of Hollywood's most popular leading ladies. The one given most notoriety for wearing Mules was Marilyn Monroe.
  One of Mariyln's co-stars and fellow femme fatales, Jayne Russell also loved to wear Mules. Jayne often wore them for movie roles and personal press photos.

  Though one actress adorned her feet even more so in Mules than Monroe or Russell and her name was Jayne Mansfield, you would be hard pressed to not find a photo of Jayne in her Mules.


 
  In the 1950's women's shoes were considered fairly high, since the stiletto shoe had made its official appearance in fashion, the Mule became even more popular to wear due to its ability to make the leg look long and sexy while still allowing the wearer to be comfortable.
  With the Mule popularity several shoe designers' made their name in the industry by making their own version of the shoe, some even coining new names for the historical shoe style itself.
  Beth Levine was one of those designers who not only coined her own name for the mules but also patented her own addition to the Mule shoe. As Mules made their way onto streets and out of the bedroom women began to complain that the shoes were hard to keep on. Designer Beth Levine responded to this complaint by creating The Springolator in 1956.
  The Springolator design was a band of material the shoe insole was made of and a thick yet soft elastic.  She observed this originally from a men's boot liner, which was meant to prevent foot slippage. It was designed much like the liner on the boot, it created tension between the shoe and the bottom of the foot. Not only did it keep the shoe on it eliminated the clacking noise made by most Mules when you walk. To disbelievers of her shoe design, it is said that Beth ran across a hotel lobby during a major convention show and proved her Springolators did in fact stay on with out unwanted clacking.
    Springolators became so in demand, that they were making private label shoes for several popular companies, one in particular was Frederick's of Hollywood. Beth was soon known as "The First Lady of American Shoe Design" she continued designing shoes until the 1970s. She was known for also creating more feminine and revealing shoe designs that took away more of the leather to expose more of the foot. Beth Levine changed the silhouette of women's shoes forever. She died at the age of 91 in New York City in 2006. I could write an entire story on Beth and her husband Herberts shoe company, but that will have to be for another story.
   Another large designer who changed the Mule was Polly of California. The famous shoe was released in the Spring of 1961 and were originally called the "Genie" or "Glamour Clogs". By 1964 they became synonymous with the half metal/half wood heel that was famously deemed non breakable. The Genie shoe became extremely popular to wear by Hollywood Celebrities, Showgirls, Pinups and Burlesque Performers.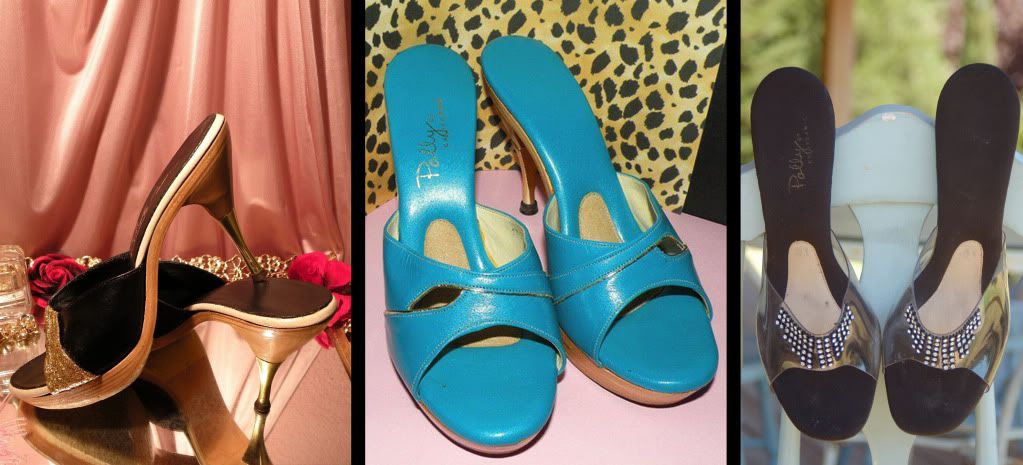 The Genie or Glamour Clog shoe was first advertised in a Frederick's of Hollywood Catalog in 1961, and from there they were brought back into style by such designers as, Betsey Johnson, Remix Vintage Shoes and Bordello. Bordello and Re-Mix are the only brands keeping the Polly shoe alive today, there are several colorways and finishes to choose from starting under $100.00.
  Now you must understand why I am so thoroughly in-love with Polly shoes, Mules and Springolaters. Their rich history, their glamorous past with Old Hollywood's biggest starlettes, make them the go to shoe for any gal. You can find several classic Genie Polly Pumps on the Pinup Girl Clothing Site, and even more colorways and bodies coming in the next few weeks. Take the dive into glamour and slip inside a piece of history.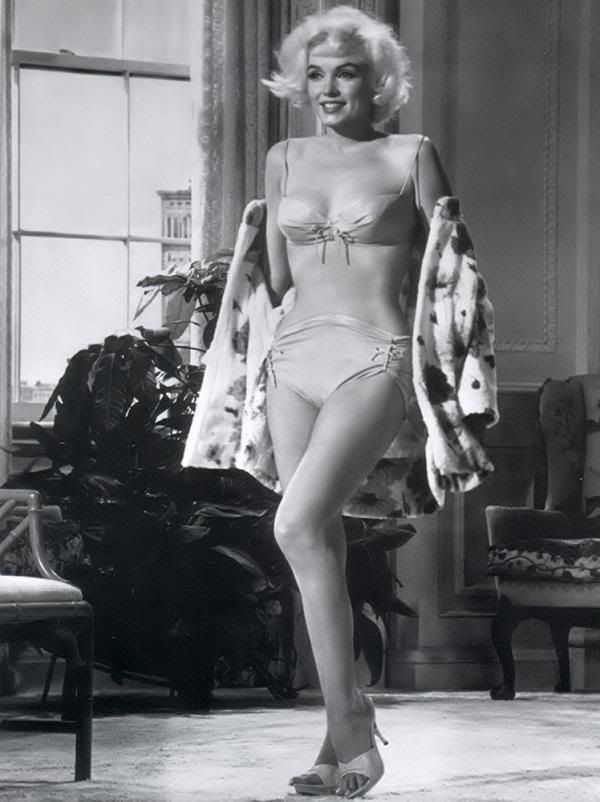 <3

Micheline Pitt