Originally posted on my blog
'Lindy Bop' began life in 2011, and brings affordable style and inspiration from the 1950s to women across the globe.  They're best know for their vintage inspired dresses, but their online shop stocks a nice few surprises too, in the form of Ruby Shoo shoes & bags, along with some petticoats and a small number of seperates.  They're best known for their Audrey and Ophelia styles, though for my first purchase I opted to go with something a little more relaxed; Jeanette is a 1950s rocker-style shirt dress, currently available in three colourways: black with red trim; red with black trim; and red with leopard trim.
I went with the red & leopard dress for two reasons: the leopard print, and that it has round buttons, rather than love-heart-shaped ones.  Other than that, the three colourways all share the same wide skirt, contrasting trim, and pockets.  After consulting the size guide, I decided to order a size 8 and a size 10, as my waist and bust fit into one category each; this decision was made much easier by Lindy Bop's 'pay by PayPal' selection having the option to 'pay on delivery', meaning I wouldn't have to actually pay for my order until 14 days after placing it, which I hoped would give more than plenty time to receive both dresses and decide which one to keep.
The dresses arrived quickly, and I found the smaller size had enough leeway that it fit my bust without gaping, and it fit my waist as I expected, whereas the larger size felt more than a touch too roomy all around; I was also pleased to find that on my petite 5'3" frame, it wasn't too long, coming to just below my knees.  The returns process was simple, and I received an email from PayPal within a couple of days of sending the larger dress back to say that my payment had been reduced.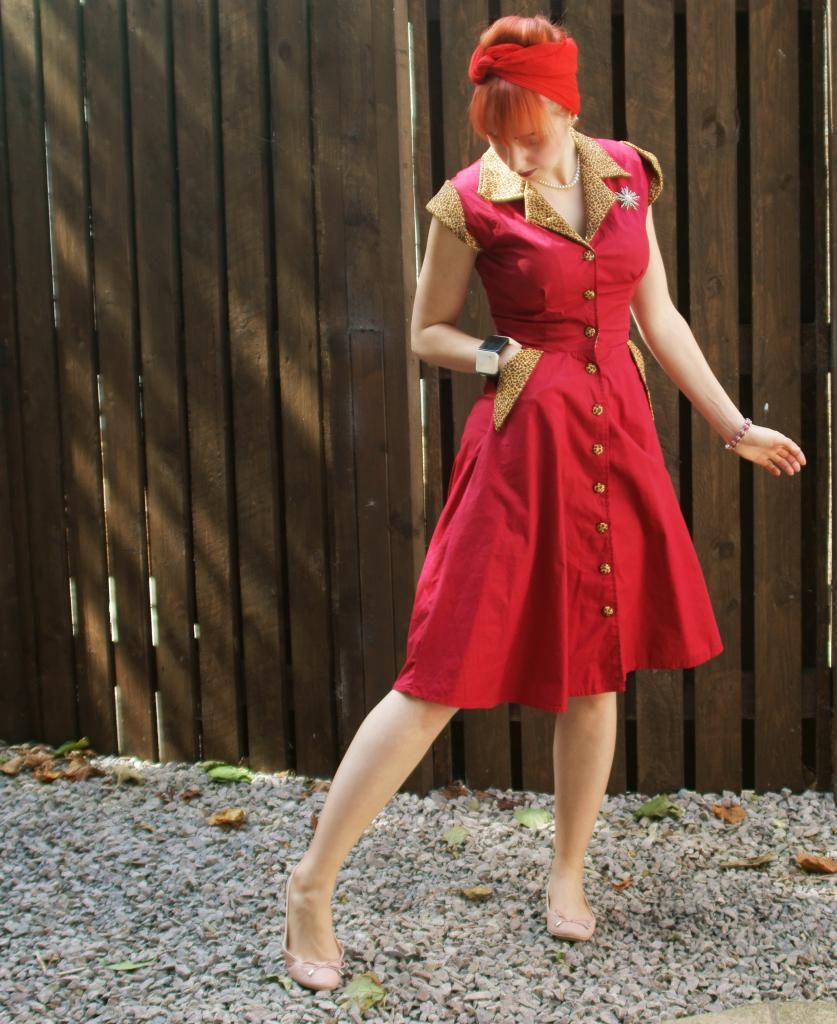 I find this a very comfortable dress to wear, it fits well and doesn't gape or pinch anywhere, plus it's nice to have a little option on how to wear the sleeves - you can wear them turned up, or left down, I tend only to turn them up when I wear the 'Jeanette' for work, otherwise I leave them down.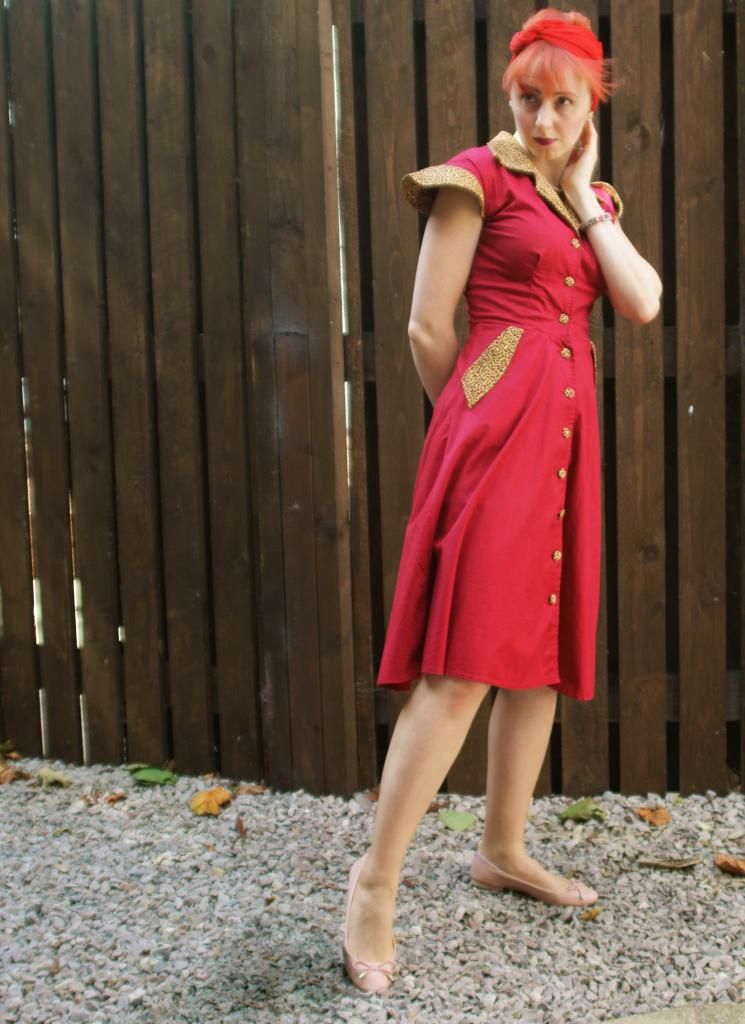 I love pockets in skirts and dresses, and these are no exception - they're roomy enough to fit my hand in, or safely store my sunglasses when I've walked into a shop, which sadly can't be said about some of my pocketed skirts.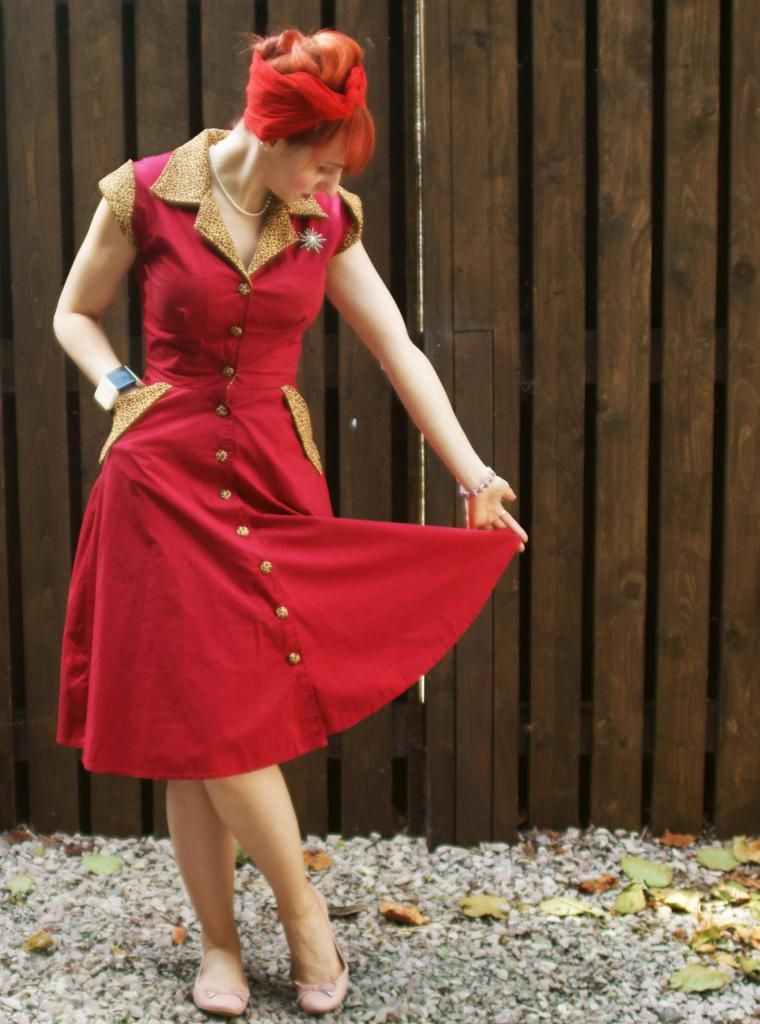 I think that this dress - especially in this colourway - has more of a rockabilly feel to it than some of Lindy Bop's others, so I tend to style it that way: with big hair (or as big as I can manage with my babyfine hair), a scarf or bandanna, and I tend to stick with flat shoes, though I've had more than one person tell me I look like I'm barefoot with these particular nude flats on, so I can't wait to get something a bit more colourful!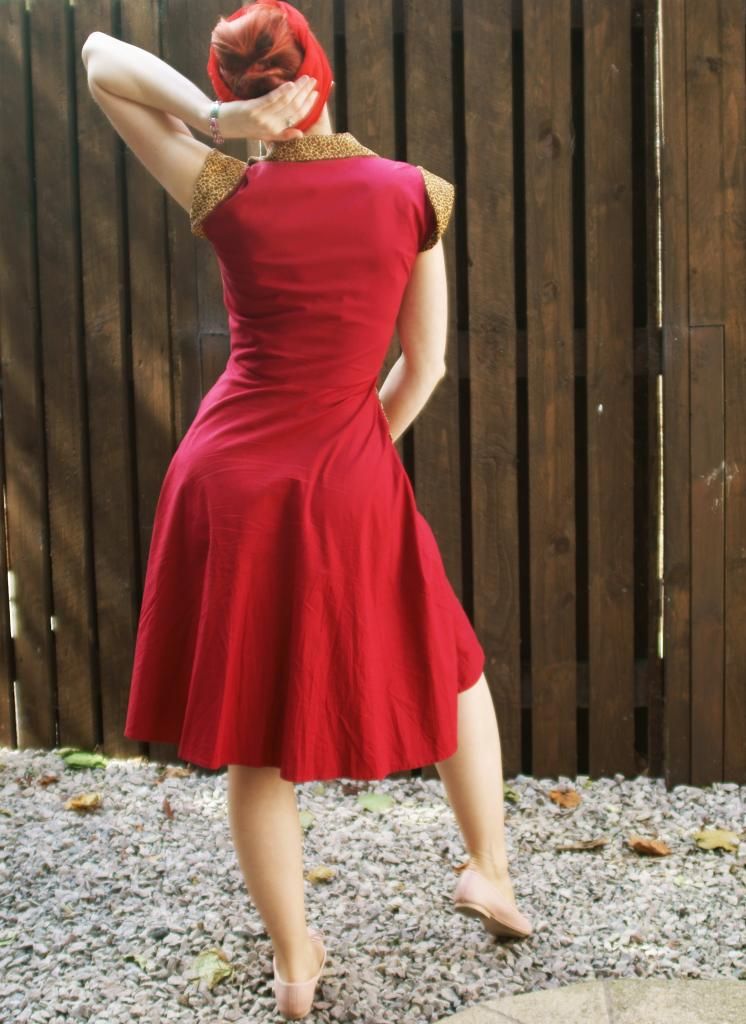 The skirt of the dress isn't too full, but it's full enough that you can get a little swing to it, or need to remember to wear at least a half-slip underneath it on a windy day, otherwise you might be showing more than you intend!
----
Dress: Lindy Bop
Scarf: antique market
Pearl necklace: antique shop
Roller bracelet: Rebellion Jewellery
Black & white bracelet: gifted from a friend
Brooch: can't remember
Stockings: What Katie Did
Shoes: Next
----
Disclaimer: Lindy Bop have not asked me to write this review, I paid for the dress myself and have written this review simply for the love of it.  All opinions expressed are mine and mine only.