Fetish - any object or nongenital part of the body that causes a habitual erotic response or fixation.

Folly - the quality of being rash and foolish
(John Willie's Bizarre Magazine 1946 - 1959)
 Vintage Smut, Kink or Fetish whatever you choose to call it, was a movement. Something as simple as heels, corsets and boots were considered shocking and arousing in the 1950's. This type of material was considered pornographic, and I loved it.
(A photo of me laying on most of my 1950's leopard collection)
  I tend to love all things trashy and over the top, and one thing I collect the most of is 1950's leopard print clothing, swimsuits and lingerie. Most were made famous by Vanity Fair in the 1950's, and then again with Cole of California in the 1960's, and many other vintage labels in-between. This was an iconic and common print of that era.
  With each Deadly Dames Collection I design, I pull inspiration from something in some shape or form. With this Summer/Fall 2012 collection I wanted to go back to the Bad Girl roots that started Deadly Dames.

  I wanted some Trash and Sass, but most of all I wanted some Kink. I have always enjoyed the old fetish illustrations and images from the 50's. I took shapes and bodies I had lusted after as a vintage collector and of course ones I had never seen before. I kept it simple with only 3 new bodies being added to the line.

(Original design sketches for Deadly Dames by Micheline Pitt) 
 I saw this great novelty print with Barbie like imagery of Fetish Pinups and tools. I wanted this print in the Tie Me Up dress, that was really the idea that launched this entire collection. I sat and sketched up a few rough designs that you can see with the Tie Me Up dress Fashion Sketch. Once my sketches were done, I drew them directly into the computer and set up the fabric pattern and repeat.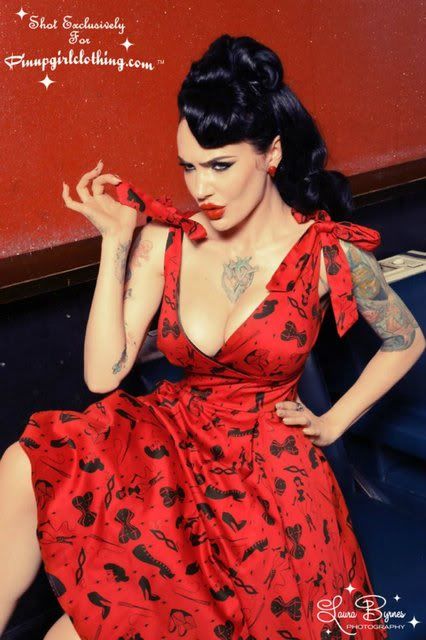 (Tie Me Up dress shot by Laura Byrnes Photography)
(Close up shots of the Tie Me Up Dress Fabric)
 The one thing I clearly wanted was another animal print and I wanted it to be Trashy so I went with my favorite 1950's Leopard print. I changed the print as well as the colors to be a deep brown red and a yellow cream.


(Shot of designer Micheline Pitt and Model Masuimi Max in the Fetish Folly collection)

  I really wanted to continue using the Victorian Rose print that I had designed a few seasons ago. I took votes on my fanpage on Facebook to which colorway I would do in the Victorian Rose print, luckily for me my favorite one won! See these two shots of what it will be coming!

(Je T'Adore dress in ed Victorian Rose print on Candace Campbell)
(Behind the scenes shot of Micheline in the Red Rose Print Haunted Housewife Dress)
You will have to wait until the holidays to snag one of these beauties. So be patient and these new Kinky styles from the "Fetish Folly" collection will be trickling by the holidays. 


(Micheline Pitt in the Folly Flair Dress shot by Laura Byrnes Photography)
  To see even more amazing photos of the "Fetish Folly" collection and behind the scenes photos go to my Facebook:

Micheline Pitt Facebook

<3

Micheline