As any vintage collector can tell you, mid-century fashion often times takes inspirations from different cultures. We have Mexican circle skirts, Hawaiian/Polynesian print clothing, western wear and various novelty prints that depict scenes from all over the world.
If there is a plumeria/hibiscus/orchid on it...it'll be worth at least 200 dollars, no exceptions.
One of the motifs I've fallen in love with (and am finding surprisingly difficult to find out there) is the Egyptian inspired pieces made in the mid 50's - 60's. The reason why I am surprised that these pieces aren't as popular as other cultural motifs are is because the 1950's was the center of a huge revival in the public interest of Ancient Egypt all due to a trend in "epic" filmmaking.
The 1950's was an interesting time in motion pictures that is more or less repeating itself today- the advent of television meant that fewer people were going to the movies and so movies had to be bigger, longer, more elaborate and more sensational in order to convince people to pay for something that would eventually screen on a smaller scale at home. Out of this dilemma, the "epic" film was born.
Epic films involved elaborate sets, THOUSANDS of extras and costumes, scripts more than three hundred pages long (the average length of a script nowadays is 120 pages, for comparison), big stars, choreographed battles, and the promise of being transported somewhere the television could never realistically transport you - antiquity.
Sometimes it's hard to consider that at one time, television shows like "Rome", "The Tudors" and "Spartacus" were an impossibility, not simply due to the graphic content but because of the set design restraints and budgets of television.
Ancient Egypt was a common setting for epics. We've all seen "The Ten Commandments" with Charlton Heston, but numerous other movies involving Ancient Egypt were made before that, and it was actually through those films that "The Ten Commandments" was able to acquire most of the set dressings used in the film.
Egyptmania was in full force. Not only was it something that made paying for a movie worth it, but it also inspired the vacations of wealthy people in the Western world. Now you could see "The Egyptian" in theaters, and then book a vacation to the country itself through a travel agent who would get you a seat on the next Pan Am or TWA flight.
And the image of the American tourist has remained the same ever since.
But like other fads and cultural explosions in the 1950's, Egypt made its way into the fashion of the day...
Egyptian novelty print was a thing. A beautiful thing.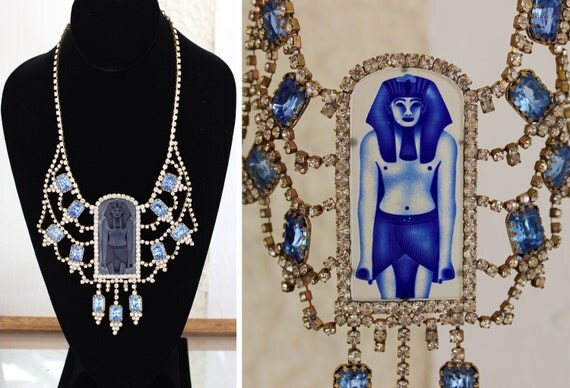 Costume jewelry fit for a queen!
As soon as the trend looked like it would maybe fade...a certain movie began production in 1960 that was surrounded by sexual scandal, budgeting issues, location problems and ultimately became a major flop for 20th Century Fox when it finally premiered in 1963. I'm talking of course about Elizabeth Taylor and Richard Burton's "Cleopatra".
Cleopatra had been done before by Cecil B. DeMille and Claudette Colbert in 1934. It wasn't a new concept or a new story...but Cleopatra hadn't been done like this. This Cleopatra was in color, featured extraordinary sets, a scandalous backstory involving its leads and featured scenes that pushed the censors of the day. When Elizabeth Taylor sat in the bath as Claudette Colbert did before her, she was in color with her dramatic makeup as blue as the water she was sitting in (that you were probably staring at with the hopes of getting a good look at her barely visible body under the surface).
And Ancient Egyptian inspired fashion didn't die, but was rather given an extra life with a makeup look to go with it.
Despite being a commercial success and winning four of the nine academy awards it was nominated for (cinematography, set decoration, costume and special effects), "Cleopatra" was so expensive that it was a flop at the box office and was considered a financial failure. The age of the epic film was brought to a close and with it interest in Ancient Egyptian aesthetic until the treasures of Pharaoh Tutankhamen toured the country in the late 70's.
It's difficult to find mid-century vintage that reflects this period in time. When I do, I almost always go for it if I can afford it, because it's a little more unique than the Mexican or Tropical motifs that everyone else is lusting after.
Fortunately, some repro designers have caught on and made some wonderful pieces.
But it's still something I hope to see more!
There's not much room for trends in this scene, seeing as it's something that involves constantly recycling a wardrobe from a 20 year period of time, but it's something that I absolutely love and hope to find others who enjoy it like I do.