Growing up poor may seem like a negative to most especially here in California but growing up in a small town in Georgia it was common place. For me being poor meant I had to be more creative with what I had and it fed into me designing and making my own clothes and accessories.

  Most kids had their parents take them shopping for school clothes, we lacked this luxury. My mom would take me to thrift stores and second hand shops instead of name brand stores at the local Mall to get school clothes. I really wanted to get more than just basics for school and I knew my mom couldn't afford to buy me the clothes at Little Five Points in Atlanta, so I had to learn the real value of a dollar by working for the money to buy my clothes myself.
I did construction cleaning at he age of 12 or 13, maybe younger, my aunt had set up a business with my mom to clean up newly built homes and restorations. It was really hard work, but I needed money to buy art supplies, clothing and materials to make things so it was worth it. Really working for what you have or want in life is something I think every person needs to learn and I am lucky I learned it at such a young age.
Before I knew how to even use a sewing machine in elementary school I picked up hand embroidery and cross hatching so I think I had a natural draw towards sewing. I started hand sewing clothes before I used a sewing machine. Most things didn't fit me well because of my slim yet tall body type, so my mom would often alter my clothes to fit me properly on her old Singer machine. I never had any real formal training, other than seeing my mom sew. I started by taking in my clothes myself, then that turned into me reconstructing existing things I found at Thrift Shops into something I would actually wear. I remember using my mom's old Singer sewing machine and not knowing now to even thread the needle. I had no real idea what I was even doing but I figured it out only after breaking it two times. *don't sew leather and denim on the wrong setting with the wrong needles. ;)
I couldn't afford the kinds of clothes I wanted even with working but more importantly I found they didn't exist. That is when I started designing clothes.
My art always reflected the kinds of clothes I wanted to wear as you can see in this drawing I did when I was 15.
Outfit looks familiar, right?
I learned how to screen print at 15, because I couldn't find proper band shirts or shirts in general. Even though I could screen print, I still hand painted shirts, first for myself then for friends, then to sell. My first line was called "From Beyond the Grave" it was all monster and film related. Some were original pieces of my own artwork.
These shirts were from when I was 15, and I still own them. 
From there I made my first real dress. I loved John Waters films growing up and Cry Baby being one of my favorites I had to have the dress Wanda wore. 
So I found fabric and buttons and went to town on my first dress. I was 16 and didn't know a thing about pattern making so drew out the shapes of the dress on the fabric. I would drape the piecing on myself and pin them together, often pricking myself with the pins. I kept single needle stitching and fitting the pieces of fabric to myself until it looked good. I didn't have an option to get a dress mannequin back then. As you can see below I never really cleaned up all my seams, I think I was too excited and just wanted to wear it.
Button holes were hard and yet I managed to do it and this was the end result. I can't button the top button anymore but I still think it looks good.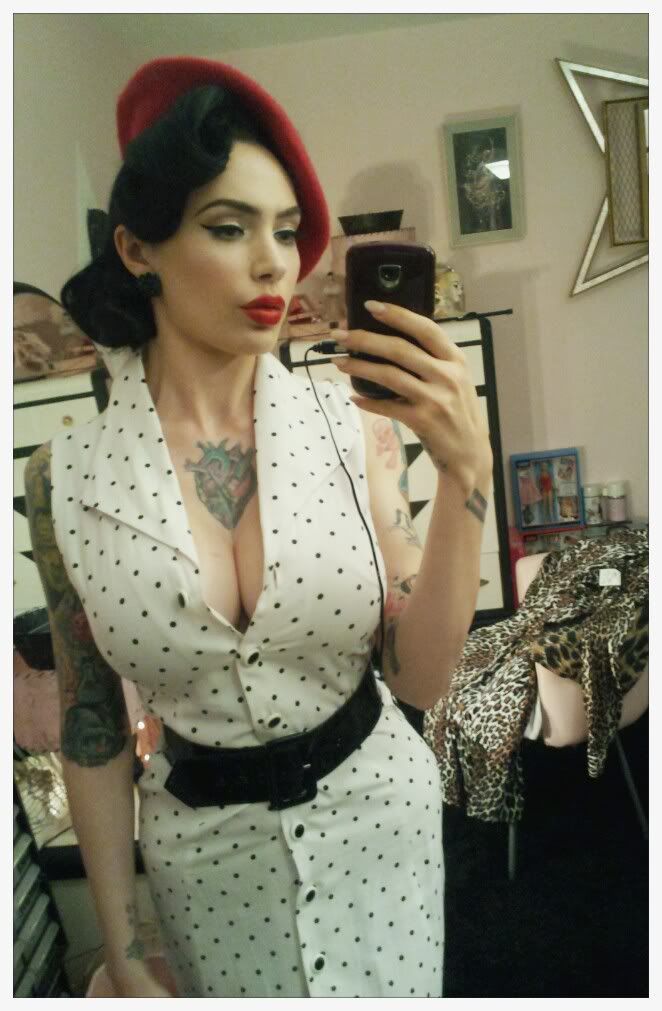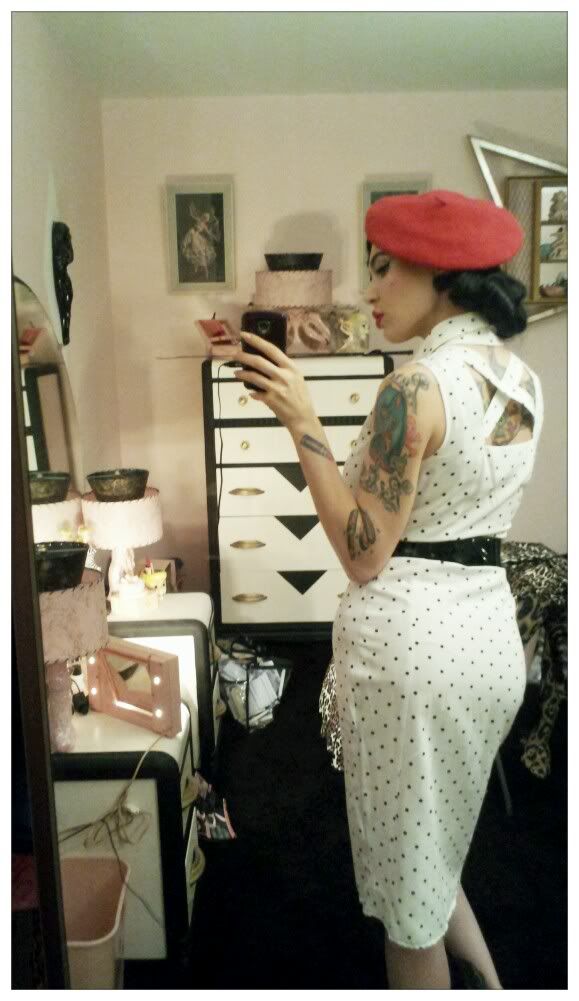 With successfully making my first dress, I started making other pieces for myself. This is one of my favorite pieces, that I still have. The very first hot pink Deadly Curves skirt was made when I was 17 or 18 by hand, I hand painted the skull on it too. I have to dig it out of storage but I do have an old photo of me wearing it. Then of course the Deadly Curves Skirt made for the rest of the world for the first Deadly Dames collection.
These ideas and designs never left, I had another clothing line in NYC, but being a struggling artist with no money to back it, it never had a chance to really take off. So I continued making clothes for myself and would wait until the time was right to try again.
You can go on the Deadly Dames Facebook page to learn the whole story of how Deadly Dames came to be with Pinup Girl as it is rather long winded, but to keep it brief; I teamed up with Laura to do Deadly Dames my first collection was my chance to make these clothes I had made myself but for all the other girls out there. I knew there had to be other girls like me who always wanted this kind of stuff but couldn't find it.
The white and black polka dot dress returned and the Deadly Dames dress was born and the brand had a name, and that teenage girl who dreamed of these clothes was finally able to make her dreams come true by sharing them with the rest of the world.
<3 Micheline